FME February – Boost Your Skills This Month
The January madness out of the way! February is one of the best times to improve your best practices, knowledge, and even your internal processes. If you're looking to develop your skills, there are a range of resources available to help you on your way to becoming an FME Master.
Here is a breakdown of a few of our favourites:
Your Friendly Neighbourhood FME Supplier
We aren't just here to provide the licences.
As your supplier, we want you to get the most out of your FME. There is a range of ways that we can add value to your organisations – either through consultancy lead projects or with one of our training packages. We've done some great consultancy work recently on big projects with Costain and A-one+, and you can download the case studies for those from this very blog.
For training, there are two options to choose from:
Public – Ideal if you're only booking for yourself. Our 2-day Introduction and 1-day Advanced courses are hosted in our offices in Birmingham's famous Jewellery Quarter.
Private – For small/medium groups of users, we offer private versions of the above courses. With this option, one of our trained consultants joins you at your offices to deliver the course.
Safe Software // Community Tab
Where better to look for tips and tricks than on the official website of FME.
The Safe team (and a whole host of community contributors) are constantly keeping their customers and communities up to date with new updates and innovative uses of their products via their community tab. The site boasts:
Knowledge Base: Filled with demos, tutorials and updates, the Knowledge Base is a great place to start for those that are new to FME, as well as refreshing your existing practices.
Q & A Forum: A place for users to ask questions and share their insider knowledge.
Ideas Exchange: A user-driven suggestion box, where you can post ideas for future versions and suggest improvements.
FME Hub: An area for users to add or share custom content.
FME World Tour
For those of you who haven't been on an FME World Tour event yet… what have you been doing?
Hosted yearly, this series of full-day events is a hands-on way of experiencing the impact FME can have across a range of industries, organisations and individuals.
Hosted by suppliers and members of the Safe Software team, these events highlight new and existing features of the software in a fun and friendly environment. Interspersed with networking opportunities and prizes; you'll go home with the know-how to apply FME to your own challenges, and have a great time in the process! The day represents a great opportunity to learn from your peers, and share knowledge in a dynamic and inclusive way.
Playing host to the tour are 70 cities across the world. So, no matter where you are, there's no excuse for you not to attend an event. The miso team are hosting our leg of the event in Birmingham on May 16th.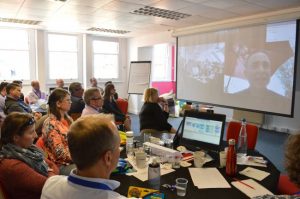 GitHub
The OpenSource community has contributed huge amounts to GIS. We think it's only fitting that we include GitHub (the leading OpenSource platform), on the list of valuable FME resources.
GitHub is a site used by 2.1 million businesses and over 31 million developers worldwide.
Recently, we've uploaded our FME Workspace for the translation of OS' most complex and bewildering dataset – the Highways Network. If you're a former ITN user (or just curious to see what we've come up with), you can visit our GitHub page to get your hands on this fully-functional solution by clicking here.
And if this isn't enough to get you to give it a try, then perhaps their logo, Octocat, will.