INSPIRE Top of the Pops – What's Everyone Been Publishing?
What have our DataPublisher customers been publishing recently for INSPIRE?
Movers and shakers
The most dramatic change has been a massive rise in the number of Development Areas datasets being uploaded. They're a new entry, straight in at number 7. Conservation Areas climbs 6 places after featuring in January's count, up to number 5. Flood Zones also sneaks quietly into the Top 20, up 4 places.
On the way down
Safeguarding Zones, Parking Zones, and Common Land were less popular uploads in the last quarter of the year.
Going strong
Tree Protection Orders and Open Spaces stay where they are at 1st and 4th place respectively.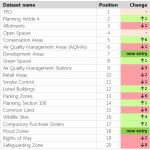 Have you started uploading your datasets yet?
Find out more about how we can help you tackle INSPIRE. Call us on 0121 232 8000 or send us an email at info@misoportal.com